Team Industries, Inc. has announced a three-phase expansion at its Kaukauna, WI corporate facility. This is the largest and most aggressive expansion project in the company's 27-year history.
Phase I marked the completion of a 30,000 square foot addition to the loading facility, incorporating a Post Weld Heat Treat Oven, Dual Chamber X-ray Vault and Hydro Static Testing Area.
Phase II included the acquisition of the former 250,000 sq. ft. RR Donnelley building and 9.5 acres south of the main Kaukauna, WI facility. This space will support pipe fabrication and related operations.
Phase III construction is underway on Team's Kaukauna, WI main fabrication building adding 54,000 sq. ft. to its existing 100,000 sq. ft. facility, with completion by mid-November of this year. This expansion will allow Team to add additional state-of-the-art equipment and expand its welding/fabrication capabilities.
Future Industrial projects requiring larger and longer pipe spools have fueled a large portion of this expansion. Our focus is on continuous improvement and meeting customer demands. Many projects stemming from the shale oil boom have continued to keep production flowing. Team projects that the increase in fabrication space will translate into the creation of approximately 155 new jobs over the next three years.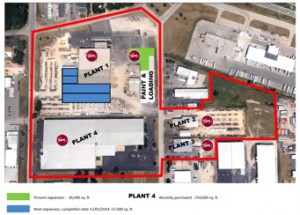 Team Industries, Inc. is North America's leader for on-time delivery of high quality pipe fabrication and fabricated vessels as well as a product line of welding positioners and grippers. In order to better serve our customers in the quality critical petro-chemical, power, and refinery industries, Team has established fabrication locations in Kaukauna, WI, Oconto Falls, WI, and Port Arthur, TX. Team Industries, Inc. assures the lowest installed cost pipe fabrication on the market today by strictly adhering to our customer's technical and job site requirements combined with a time proven exceedingly low back charge rate.
Visit www.www.teamind.com and www.weldpositioner.com