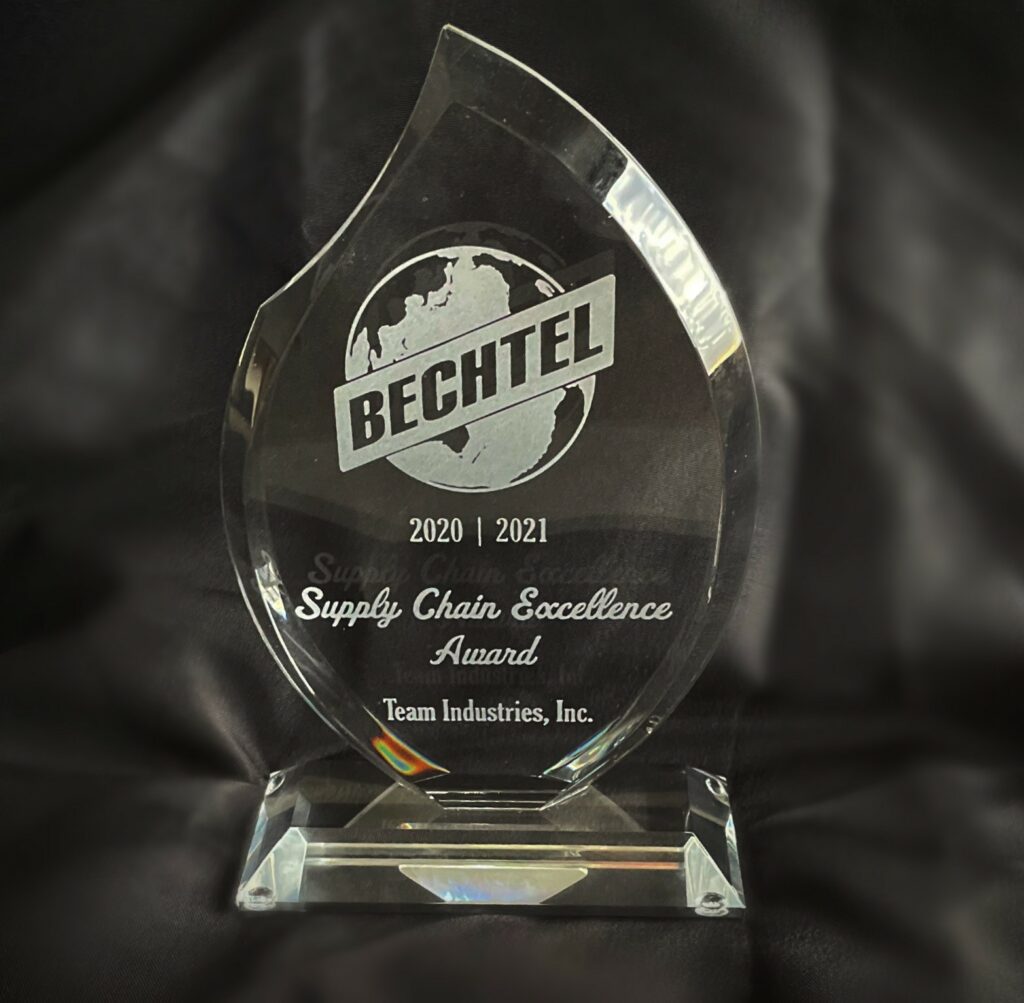 Team Industries, Inc. was recognized as a top supplier by Bechtel for exceptional work on their projects. We have been honored to be recognized by Bechtel through the years. Past awards received from Bechtel include the 2011 Supplier of the Year, the 2012 Key Supplier, the 2013 Supplier of the Year, the 2018/2019 Supply Chain Excellence and now the 2020/2021 Supply Chain Excellence award.
Companies were evaluated on multiple factors including overall performance, ability to deliver quality services/supplies on time, ability to work collaboratively to meet milestones, and meeting or exceeding project expectations in aspects of safety, performance, technical expertise, and environmental compliance.
"The partnerships we have with our subcontractors and suppliers are fundamental in delivering projects to our customers," said Tarek Amine, manager of Corporate Procurement and Contracts. "Collaboration with subcontractors and suppliers enhances our ability to align to our customers' goals, achieve their objectives, and deliver a lasting positive impact in the communities where we live and work."
Team Industries Inc. is a privately held leader in shop fabricated pipe spools and pressure vessels with locations in Kaukauna, Wisconsin and Port Arthur, Texas and are specialized in high quality welding and fabrication, project management, engineering, quality control, with state-of-the-art surface preparation and coating capabilities, and industry leading safety. Teams Industries, Inc. success is fueled by our mission to meet, then exceed our customer's expectations, with no excuses.
Team acknowledges that this award was made possible due to the partnership between Local 400 of the United Associate of Plumbers and Steamfitters Union and Team Industries.
Quote from John Panetti, President and Owner of Team Industries, "Team Industries is honored to be recognized by Bechtel with the 2020/2021 Supply Chain Excellence Award, which is a testament to our commitment to quality and safety and exceeding our customers expectations"