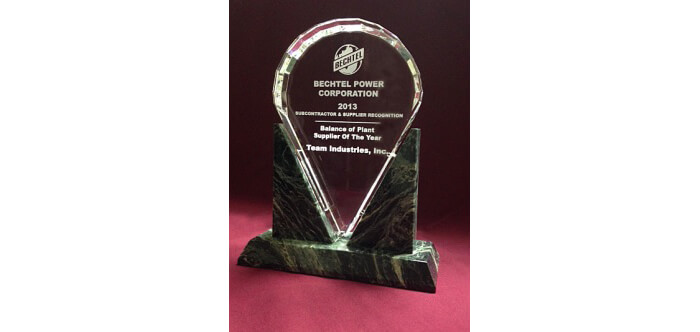 Frederick, Maryland, February 26, 2014 – Team Industries, Inc. was one of 56 companies that were honored with the annual Bechtel Power Subcontractor and Supplier Recognition Award. Companies were nominated by Bechtel Power project teams from an international pool of over 3,500 Bechtel suppliers and subcontractors. Team Industries, Inc. was chosen as the Balance of Plant Equipment (BOP) "Supplier of the Year" for 2013. This is the second time in three years Team Industries, Inc. has accepted this prominent Bechtel award, and is the only pipe fabricator to have received this recognition.
"Subcontractors and suppliers play a critical role in our ability to deliver projects to our customers with the highest levels of safety, quality and ethics," Said Toby Seay, president of Bechtel's power global business unit. "The expertise and innovations they bring are essential to a project's success." Companies were evaluated on multiple factors. They include: overall performance; the ability to deliver quality equipment on time; the ability to work collaboratively to meet milestones; and meeting or exceeding project expectations in aspects of safety, construction performance, technical expertise, and environmental compliance.
Team Industries, Inc. not only serves Bechtel but provides all their customers with dedicated project management, impeccable engineering, technical expertise, one of-a-kind QC documentation packages, outstanding safety, exceedingly low back-charge rates, on-time delivery, and quality fabrication. Team Industries' success is fueled by understanding customer demands, delivering according to expectations and working together to meet customer requirements.
Team Industries, Inc. acknowledges that this award was made possible because of the genuine spirit of cooperation that exists between our partners in business, the United Association of Plumbers and Steamfitters (U.A.).
Team Industries, Inc. (Est. 1987) is North America's leader for on-time delivery of high quality pipe fabrication and fabricated vessels as well as a product line of welding positioners and grippers. In order to better serve our customers in the quality critical petro-chemical, power, and other industries, Team has established fabrication locations in Wisconsin and Texas. Our facilities include over 240,000 square feet of indoor fabrication space. From pipe supports, tanks, high quality pipe fabrication, and coating requirements, we have maintained our position as the industry leader and can supply all your project needs. Team Industries, Inc. assures the lowest installed cost pipe fabrication on the market today by strictly adhering to our customer's technical and job site requirements combined with a time proven exceedingly low back charge rate. We will fabricate your project to your specifications, and deliver it on time and within budget. Visit www.www.teamind.com and www.weldpositioner.com